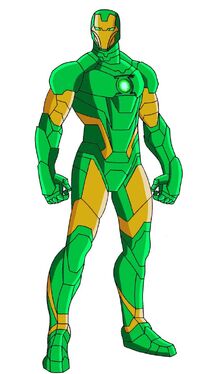 Green Armor AKA Tony Jordan is a fusion of the Marvel's Iron Man and Dc's Green Lantern
Friends:
Jillian Potts (Pepper Potts + Jillian Pearlman)
Iron Lantern Legion (Iron Legion + Green Lantern Corps)
Green Warrior AKA John Rhodes (War Machine + John Stuart)
Lantern Hearth AKA Riri Cruz (Iron Hearth + Jessica Cruz)
Thomas Hogan (Happy Hogan + Thomas Kalmaku)
Ho Sur (Ho Ensen + Abin Sur)
Green Guardsman AKA Kevin Ryner (Guardsman + Kyle Ryner)
Enemies
Yellow Rings Corps (Ten Rings + Yellow Lantern Corps)
Mandarinestro (Mandarin + Sinestro)
Amojin (Temujin + Amon Sur)
Yellow Cowl AKA Lyssa Hammer (Crimson Cowl + Lyssa Drak)
Karu Hammer (Sasha Hammer + Karu-Sil)
Arkilash (Blacklash + Arkillo)
Iron Hunter (Hanter Stane) (Ezekiel Stane + Haasp the Hunter)
Murr the Unicorn (Unicorn + Murr the Melting Man)
Farallax (Fin Fang Foom + Parallax)
Dr Whiplash (Whiplash + Dr Polaris)
Madame Sapphire AKA Whitney Ferris (Madame Masque + Star Sapphire)
Titanium Face AKA Boris Kenyon (Titanium Man + Goldface)
Orange Monger AKA Larry Stane (Iron Monger + Larfleeze)
Dread Hand AKA William Velsing (Dreadknight + Black Hand)
Tattoed Spy (Spymaster + Tattoed Man)
Man-Shark (Man-Bull + Shark)
Meltsonar AKA Bito Horgan (Melter + Sonar)
Major Blizzard AKA Paul Shapanka (Blizzard + Major Disaster)
Laser Force AKA Clifford Parks (Living Laser + Major Force)
H.E.C.T.O.R. AKA Hector Tarleton (M.O.D.O.K. + Hector Hammond)
Super-Manhunters (Super-Adaptoid + Manhunters)
Ultimo Legion (Ultimo + Legion)
Yrra Bain (Sunset Bain + Fatality)
Prankster (Jester + Harlequin)
Star Controller AKA Basil Pompton (Controller + Evil Star)
Red Dynamo (Crimson Dynamo + Rocket Red)
Oldrich Nero (Oldrich Killian + Alex Nero)
Effibrand AKA Martin Gilbert (Firebrand + Effigy)
Olivia Hammer (Justin Hammer + Olivia Reynolds)
Power Maniac (Iron Maniac + Power Ring)
Community content is available under
CC-BY-SA
unless otherwise noted.