Hammer Shark AKA Joeseph White, Amalgam Comics character and Devilman enemy.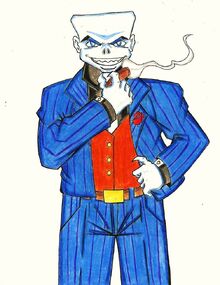 Member of the Intermagia criminal group. He fought with Devilman and was sent to Arkraft prison, where during a fight with prisoners, he was attaked by Gladigator and frozen by Donald Fries. He was found by security with skull injury and half-dead frozen. Subsequently, his whitened body is found and they decide to conduct an illegal experiment. The skull is replaced with a steel one. After surgery, the white with Nega-Face escapes from Arkraft and returned to Intermaggia, wishing to avenge Devilman. Later, he faced Spider-Boy and Supersteel.
Community content is available under
CC-BY-SA
unless otherwise noted.