Tony Wayne was the son of billionaire entrepreneur Howard Wayne, who was killed in an air crash, along with his wife. Traumatized, Tony spent most of his youth alone, immersed in books and politics. His only guardian was Alfred Jarvis, the Butler of the waynes. After realizing that his hometown is rotting, Tony realizes that he can't stop the same planned murders that happened to his parents. He has long been trained in martial arts and mechanics from the best. As a result, he created an image that can instill fear in the crime of Gothon-Iron Bat.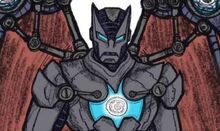 Alfred Jarvis (Alfred Pennyworth/Edwin Jarvis)
Red War-Machine (Red Hood/War-Machine)
Night Spider (Dick Parker) (Nightwing/Spider-Man)
Rescue Girl (Pepper Gordon) (Batgirl/Rescue)
Comissioner Nick Gordon (Jim Gordon/Nick Fury)
Harold Fox (Lucius Fox/Harold "Happy" Hogan)
Iron Wing (Curtis Fox) (Batwing/Sentry)
Cassandra Ho (Cassandra Cain/Toni Ho)
Rocket Signal (Signal/Rocket Racer)
Iron Savior (Batwoman/Ghost-Spider)
Overbat (Batman of Zurr-Enn-Arrh/Overkill)
Iron Bat 2020 (Damian Wayne/Arno Stark)
Hooded Guard (Azrael/Guardsman)
Bat-Heart (Riri Drake) (Red Robin/Iron Heart)
Blazy the Iron Dog (Ace the Bat-Hound/Sparky)
Villains Edit
Doctor Joker (Victor Napier) (Joker/Doctor Doom)
Harley Gwen (Harley Quinn/Gwenpool)
Emperor (Wilson Cobblepott) (Penguin/Kingpin)
Madame Cat (Catwoman/Madame Masque)
Q.U.I.Z. (George Nygma) (Riddler/M.O.D.O.K.)
Eric Dent (Two-Face/Magneto)
Freeze Monger (Mister Freeze/Iron Monger)
Plantwoman (Poison Ivy/Viper)
Yao the Immortal (Ra's al Ghul/Mandarin)
Frostbite (Firefly/Blizzard)
Whipbane (Bane/Whiplash)
Crimson Croc (Killer Croc/Crimson Dynamo)
Professor Killian (Hugo Strange/Aldrich Killian)
Mad Controller (Mad Hatter/Controller)
Vampire-Man (Man-Bat/Morbius)
Killer Beetle (Killer Moth/Beetle)
Fearcrow (Scarecrow/Mysterio)
Timer-Man (Clock King/Stilt-Man)
Ghostshot (Deadshot/Ghost)
Blood Brothers (Tweedle Dee & Dum/Raiders)
Count Zeus (Maxie Zeus/Mordecai Midas)
Crimson Beast (KGBeast/Scorpio)
Victoria Bordeaux (Sasha Bordeaux/Victoria Hand)
Crush-Up (Lock-Up/Mauler)
Meltface (Clayface/Melter)
Titanium Wrath (Wrath/Titanium Man)
Dead Knight (Arkham Knight/Dreadknight)
Professor Fixer (Slipknot/Fixer)
Justin Thorne (Rupert Thorne/Justin Hammer)
Black Rose (Blacksun/Rose)
Black Gladiator (Black Mask/Black Knight)
Coder (Calculator/Tinkerer)
Requiem (Anarky/Ezekiel Stane)
Killer Spider (Black Spider/Killer Shrike)
Living Fear (Doctor Phosphorus/Living Laser)
King Pharaoh (King Tut/Mad Pharaoh)
Joe Wesker (Ventriloquist/Joe Fixit)
Puppetrix (Peyton Riley/Abominatrix)
Faceless (Hush/Spymaster)
Death-Master (Deathstroke/Taskmaster)
Unicorn (Unicorn/Unicorn)
Ring Pyg (Pyg/Ringmaster)
Dushan al Temugin (Dushan al Ghul/Temugin)
Techno-Mind (Cluemaster/Quizmaster)
Flame-Power (Firebug/Firebrand)
Firestroke (Tally Man/Firepower)
Abomination (Ogre/Arsenal)
White Skull (Great White Shark/Tombstone)
Roman Silver (Carmine Falcone/Silvermane)
Orphan-7 (Orphan/Coldblood-7)
The Actress (Mime/Actor)
Growing Construct (Construct/Growing Man)
Blue Man (Zebra-Man/Cobalt Man)
Hatchet Chimp (Hatchet/Hit-Monkey)
Cornelius Vore (Cornelius Stirk/Technovore)
Crimson Nocturn (Nocturn/Crimson Cowl)
Claywave (Preston Payne/Shockwave)
O.R.C.A. (M.O.D.A.M./Orca)
Fybru (Ubu/Vibro)
Community content is available under
CC-BY-SA
unless otherwise noted.