Phantom Spider, also known as Peter Corrigan, Amalgam Comics superhero and one of the Great Web Defenders.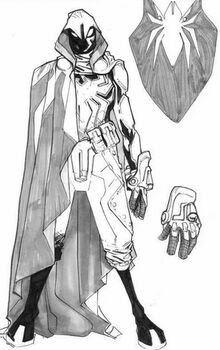 Peter Corrigan was the son of Richard Corrigan, possessed by Aztar, who was placed in a psychiatric hospital Arkhamcroft. Peter was left to yell at his aunt and uncle. During a school trip to the Cadmcorp lab, curious Peter saw something he shouldn't have seen. His uncle and aunt were quietly killed, and Peter was caught by lab workers. As it turned out Cadmcorp put occultists experiments, noticed that the young Corrigan. Alistair Westfield got rid of the teenager by killing him and dumping his body in a pit filled with radioactive spiders. Over time, his body rebelled, possessed by the spirit of Aztar and filled with the toxins of radioactive arthropods. Peter was on the path of revenge. Now he is forced to rein in new abilities and uncover a conspiracy led by Bruce Osborn.
Characters
Edit
Phantom Spider (Peter Corrigan) (Spectre/Spider-Man)
Phantom Spider (Miles Allen) (Spectre 2/Spider-Man 2)
Madam Black Cat (Madam Xanadu/Black Cat)
Eclipso Goblin (Bruce Osborn) (Eclipso/Green Goblin)
Doctor Gorgon (Otto) (Gorgon/Doctor Octopus)
Creepling Creature (Jack Brock) (Creeper/Venom)
Extreme Six (Extreme/Sinister Six)
Dead Vampire (Death Bat/Morbius)
Traven the Hunter (Tracer/Kraven)
Master Mystery (Dreamslayer/Mysterio)
Doctor Jackal (Doctor Occult/Jackal)
Amphibian (Ikkondrid/Lizard)
Kulgoblin (Kulak/Hobgoblin)
Mr Kung (Kung/Mr Negative)
Mr Carnage (Mr Bigon/Carnage)
Molt (Effigy/Molten Man)
Sandyad (Naiad/Sandman)
New Water (New Wave/Hydroman)
Shock (Shock Trauma/Shocker)
Mastermind (Thinker 2/Tinkerer)
Lord Doom (Lord Havok/Doctor Doom)
Community content is available under
CC-BY-SA
unless otherwise noted.